Our company is well reckoned among the key molded PVC Conveyor Belts manufacturers and suppliers of Mumbai, Maharashtra. These belts are manufactured using superior grade raw material upto three meters wide, including food grade PVC belting with capped edges. These belts consist of solid woven fabric curved in PVC paste and adding PVC cover which is combined together by vulcanizing.
These are tested by our diligent quality auditors on varied parameters so as to ensure its quality as per the international standards.These belts have high mechanical efficiency, wide operating temperatures and excellent flame resistant and anti-static possessions, with high tensile strength in proportion to weight, good reliability and no delimitation, excellent impact and tear resistance.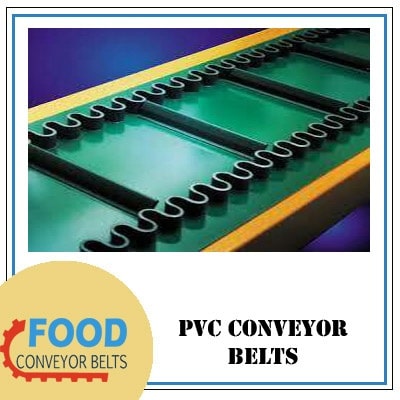 PVC (Poly Vinyl Chloride) Conveyor Belts find their application in various light, medium and heavy industries including electronics, Food & Pharma, Bakery & Confectionary, Meat & Poultry, Packaging, Wood working, Glass, Ply & Board, Automobile, Health & Fitness industries. Also these conveyor belts much suitable to service in the conditions require fire resistant and antistatic properties as coal mines, chemical, power stations and metallurgy industries. Food Conveyor Belt, Running Belt, Loading Belt, Food Grade Belt and Structural Belt are also manufactured by our experienced team under the strict supervision of well qualified technicians. Additionally these belts are designed for excellent and smooth return side support.These belts have belt body and pattern, which have different shape and height due to various conveyed material and slope of conveyor. These patterns play an important role in resisting materials to slide.With years of experience in providing best quality PVC Conveyor Belts, we have fixed a position for ourselves. Also we are amongst the most renowned entity, widely engrossed in offering a wide-ranging Conveyor Belts to our respected clients. To manufacture this belt, we are supported by a team of our skilled professional, having years of experience in their related domain. These conveyor belts are available in the market at industry leading prices.
Significant features of PVC Conveyor Belts: