With the constant support and effort of our professionals, we are capable of manufacturing and exporting a large assortment of Telescopic Conveyor Belt. It is also known as extendable conveyors, will load or unload almost any loose item quickly, safely and efficiently. It is suitable for loading and unloading of trucks, containers, vans and trailers. The telescoping feature of this conveyor minimizes human effort as well as number of labors.We provide the smart solution for high volume of shipping and receiving purposes. With our offered telescopic conveyor system, you can make routine your loading and unloading items and convey a variety of products from large to small cartons, from loose bags to tires.
These Telescopic Conveyors are commonly demanded in automobile, tyre, packaging industries, assembly lines and polyester films and many more.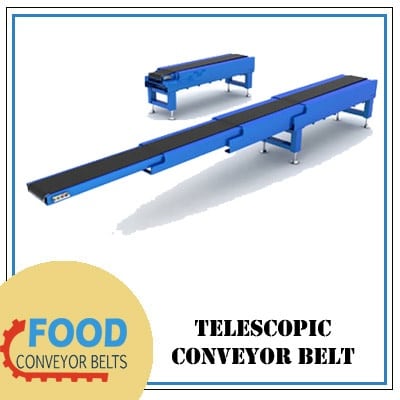 These are extensively admired among our clients as these are applicable in continuous twisted transportation of bulk material in coal mine, port and coal washers.This conveyor system is developed to make use of quality materials, approved tools, and applying latest technology by expert professionals at our production unit. It extends deep into the vehicle, saving time and energy for loading. We manufacture this conveyor belt with extra leveling feature which helps to lift the heavy items from bottom to top or top to bottom.We also manufacture this conveyor belt in different models. The model choice is generally dependent on the size of the vehicle to be loaded and also the size of the pieces being conveyed. Appropriate to their manufacturing being done by making use of fine quality raw material and modern technology, we are able to provide excellent finishing and strength in our products.